Dock Dogs Worldwide
DockDogs Worldwide is excited to be taking part in the Kingston Sheep Dog Trials Festival 2019! The exciting and crowd drawing action will be taking place all weekend, so make sure to take advantage of this incredible attraction by experiencing the fastest growing sport for canines in North America. Throughout the Show, DockDogs will present the Big Air Wave competition accompanied by an Extreme Vertical® and Speed Retrieve® competition for both competitors and spectators to enjoy. The Big Air competition features dogs running down a 40' dock and diving into a pool of water after an object, in which they are electronically judged for the length of their jump. The Extreme Vertical® competition is a "High Jump" for the dogs. Be prepared to watch these incredibly talented canines fly high as they take part in activities including Big Air, Speed Retrieval and the Extreme Vertical!
So if you or anyone you know has a dog that likes the water, gets along with other dogs, and enjoys a good "chew toy", this event is for you! Pre-registration will be available until 1 week prior to the Sport Show by logging onto
www.dockdogs.com
, or you can register on-site at the beginning of each day.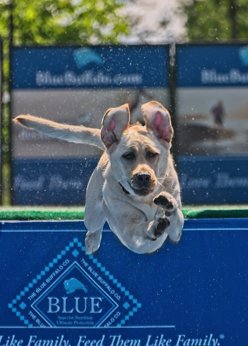 Event Schedule

Friday, August 9
Onsite Registration/Practice – 08:00 am
Big Air Wave # 1 – 09:00 am
Big Air Wave # 2 – 10:30 am
Big Air Wave # 3 – 12:00 pm
Big Air Wave # 4 – 02:00 pm
Big Air Wave # 5 – 04:00 pm

Saturday, August 10
Onsite Registration/Practice – 08:00 am
Big Air Wave # 6 – 09:00 am
Big Air Wave # 7 – 10:30 am
Big Air Wave # 8 – 12:00 pm
Big Air Wave # 9 – 02:00 pm
Extreme Vertical (All in One Finals) – 04:00 pm

Sunday, August 11
Onsite Registration/Practice – 08:00 am
Big Air Wave # 10 – 09:00 am
Big Air Wave # 11 – 10:30 am
Big Air Wave # 12 – 12:00 pm
Speed Retrieve (All in One) – 02:00 pm
Big Air FINALS – 04:00 pm (Pro, Semi Pro, Contender & Amateur Finals)