Sheep to Shawl Competition and Shawl Auction
Spinning and Weaving - Friday and Saturday from 10:00 a.m. to 4:00 p.m., and Sunday from 10:00 a.m. to 2:00 p.m.
Spinning and Weaving Demos by members of the Kingston Handloom Weavers and Spinners Guild

Saturday – Sheep-to-Shawl Competition - 9:00 a.m. to 3:00 p.m.

Sunday – Shawl Auction - 12:00 p.m.

How the Competition Works

An age old craft comes to life as teams of spinners and weavers compete for top honours. In the Sheep to Shawl competition, teams strive to spin raw fleece into yarn then weave the yarn into a shawl within only four and a half hours. Watch as spinners card the greasy fleece then magically spin the fluff into yarn using their spinning wheels. The yarn is plied, then wound onto bobbins ready for weaving. You can watch each of the teams weaving their yarn into their own unique shawl. By 3:00 pm the shawls will be removed from the looms ready for judging. Awards will be presented after judging is complete.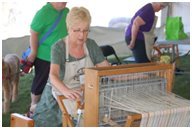 Don't Miss the Shawl Auction Sunday, 12:00 p.m.

The shawl auction is your only opportunity to own one of the gorgeous shawls that have been washed and blocked the day before, and made ready for sale. Roger Wills of Auctions RS is back again this year to ensure that the proceeds from the finished shawls reflect the hard work and creativity that went into them. 50 %of the proceeds of each shawl go to the team who created it, and 50 % goes back to the trials.

Meet Your Sheep to Shawl Judge

Tracy Asselstine has been raising sheep and mohair goats since the 1980s. She raises sheep for fine fleece and natural colours. The vast knowledge found in both Kingston and Belleville weavers and spinners guilds helped Tracy learn to spin, dye, and weave. When beginning to spin, Tracy's discovery of "spinning is the grease" led to success in making consistent yarn and the results were encouraging. Tracy has been weaving with her wool and mohair and offering her products at local shows and famers markets for more than two decades.

Sheep to Shawl Sponsors

Cornerstone Fibres
Silver Cloud Alpacas
What's Weft
Purlin' J's Roving Yarn Truck
Canadian Cooperative Wool Growers

Sheep to Shawl Volunteers

Elaine Horemans
Nancy Bowman
Bethany Garner
Stacey Robb
Fiona Robb
And many others!