The Artist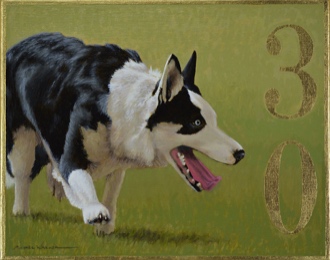 A Brief History of the Trial Art, by Michael Walker

Thirty years ago, Amanda Milliken asked me if I had a piece of art she could use as a prize for a sheepdog trial she was hosting at her home on Butternut Creek Road. I said "sure, I can give you an etching I did of a sheep." I had no idea at the time that I would be contributing for the next thirty years!



In fact, it has been so long that I do not even remember some of the things that I have done for the trail art. At one point in the early 90's, the Idea was that I would eventually create the images and my father would run the screen printing for t-shirts. In 1991, we set up a studio to do the screen printing, but before we could get started, my father was diagnosed with terminal cancer. That year I contracted out the screen printing of the graphic and painted each t-shirt by hand in order to get the job done in time for the 1992 trials. At that point it was clear the idea of doing the t-shirts was too much for me alone and I returned to just providing the design and having the shirts printed and painted by others.

Time went on and the painted shirts ultimately gave way to photo images of my artwork. Gradually, I came to the decision that I wanted the trial art to become closer to my main artworks. Today, the artworks are oil paintings on canvas mounted on panel. Thirty years; I can hardly believe it. Thanks, Amanda, for including me in this wonderful event for all these years.